Ghost hunters, paranormal investigators based in the Columbus, Ohio area. We conduct ghost, paranormal investigations in private residences and businesses throughout Ohio, and surrounding states. We do not cleanse, rid or banish ghosts from homes or businesses.
Despite what some may claim, there is no such thing as professional ghost hunters. We always conduct ourselves in a professional manner, but we do not feel the need to attach such a tag to our team. We are ghost hunters-ghost investigators, period. We follow a set of strict standards and use common sense. We take what we do seriously.
Although we believe that ghosts exist, there is no real proof. All any ghost investigator can offer is their theories based on their methods and experiences. We do not interpret everything we find as a ghost or paranormal. All findings are carefully gone over with a skeptical eye to first rule out natural causes.
Do you know of a haunting in or around central Ohio? We will travel to all Ohio cities including Cincinnati, Cleveland, Athens, Akron, Lancaster, Youngstown. Do you think you might be experiencing paranormal activity? Contact us at look4ghst@aol.com
Ghost Hunters Ohio Search Team does not accept or ask for any form of payment for paranormal investigations. Your privacy is always respected. We will not share information or findings without your consent.
Notice:
On this site we often refer to our team as Ghost Hunters, for short. We are in no way affiliated with TAPS Ghost Hunters the TV show.




Updated 07/14/2010
Toledo case added to 2009. The last of the 2009 and 2010 cases will be posted soon.
9/25/2009 Toledo Ohio report posted.
Upcoming G.H.O.S.T. paranormal investigations:
Visit ghost investigations 2009 page to read about our most recent cases.
05/02/09 Undisclosed building in Marion, Ohio. Posted.
04/10/09 Second investigation at Lancaster business. Synopsis posted.
3/06/09 Lancaster Ohio business. Report posted
2/06/09 Burbank,Ohio business.
1/31/09 Toledo home.
1/09/09 Athens business.
12/12/08 Possible ghost activity, Bellville home.
12/05/08 Walton Hills, Ohio home.
11/28/08 Chagrin Falls farm house.
11/21/08 Cincinnati home.
11/15/08 Columbus home #2.
10/10/08 Mercyhurst College. Erie, Pa.
9/19/08 Possible paranormal, ghost activity in Middleton.
8/29/08 Paranormal activity reported a 1898 Newark, Ohio home.
8/22/08 Canton, home.
8/08/08 Mansfield home.
6/27/08 On going ghost investigation at a nursing home.
6/20/08 Ghost investigation in Columbus home.
5/23/08 Possible ghost activity in west Columbus home.





Play Ghost Hunters trivia game. Test your ghost and paranormal knowledge. New questions daily.
Added two
Mansfield Reformatory EVPS.
Recorders pick up a female evp that
gets called a four letter word by a male evp? The evps have been added to About.com paranormal section.
Ghost Hunters visit west side house
empty house surprises us with a tap, tap, tap as an answer to our questions.
Galloway home
New photo looks remarkably like the closet ghost face. Could this be the ghost of the former lady of the house? Visit video page for video and photo.
Public places we visited
in 2005, 2006, 2007
Waverly Hills Sanatorium
Moundsville Penitentiary Ghost Hunt
Strand Theatre Ghost Investigation
Mansfield Reformatory Ghost Hunt
Prospect Place Mansion
Rolling Hills Ghost Hunt
Moonville Tunnel
Ghost investigation at Buxton Inn
Villisca Iowa Axe Murder House
Hannah House
Anchorage Mansion
4/18/08 Cincinnati, Ohio home.
4/11/08 Middleton, Ohio home.
3/14/08 Laurelville nursing home, on going.
2/15/08 Rushsylvania Ohio. Could ghost be the reason this beautiful farm house rents for only 200.00 a month? Quite possibly.
1/18/08 Streetsboro Ohio home.
1/11/08 Pataskala home.
1/04/08 Cleveland home follow up.




Come on in, kick back, read our case reports, listen to evps, watch videos and see the photos. Are they ghosts? Maybe they are, maybe they're not. We'll let you decide.
Many of our members have seen orbs with the naked eye.....
We are proud to be the Ohio representative of
The American Association of Paranormal Research.
You might be addicted to ghost hunting if.....
You attend a funeral and take EMF readings
There are no professional or amatuer ghost hunters walking these paths, it is only the boundaries we set within ourselves that keep us from growing and learning. author: unknown
Don't forget to visit our forums.
Click image below to vote for G.H.O.S.T.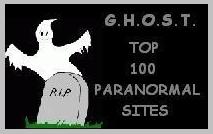 To join G.H.O.S.T. Top 100 Paranormal Sites
click on image above.

Visual items may be removed from this web site if we find we no longer believe them to be evidence of the paranormal.
2005-2014. All photos, evps and videos recordings on this site are property of Ghost Hunters Ohio Search Team and may NOT be duplicated or copied without expressed written permission.